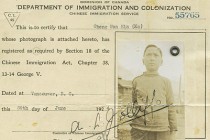 Our special exhibition explored the experiences of Chinese-Canadian who served in the Canadian military and volunteer services and in Allied war efforts during the Second World War. Though denied rights and subjected to widespread discrimination before the war, many Chinese-Canadians volunteered for military service and related duties, helping to secure victory abroad and greater equality at home.
The exhibition presented fascinating wartime stories of unforgettable men and women. It examined their remarkable contributions to Canada and to the Chinese-Canadian community in war and peace. The research and exhibition, as well as digital archive of these precious materials, was made possible through a grant from the Community Historical Recognition Program.  We are also grateful for the wonderful support from the Canadian War Museum, and the City of Vancouver.
This exhibit was displayed at the Canadian War Museum in Ottawa from May 2012 to February 2013. It has travelled to other venues since then.
The display boards are available for loan to organizations who wish to share this important but lesser known part of Canadian history.
We thank the Citizenship and Immigration Canada for the grant to develop the display boards. And we thank the Canadian War Museum in Ottawa for their guidance and support in the development of the exhibition.
Here are some photos from the opening of the exhibit, thanks to our friend in Ottawa, Robert Yip.