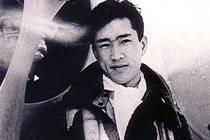 flew 420 return trips from India to China
Albert Mah was a daring Canadian-born Chinese aviator, adventurer and saxophone-playing mercenary whose real-life escapades were often more harrowing and entertaining than any Jet Li action- thriller.
He died on May 6 at age 84 at St. Mary's Hospital in Montreal, where he had been since Easter following a stomach rupture.
"He was a great pilot. He was a great adventurer. He had a lot of nerve. Nothing bothered him," Mel Taylor, who was Mah's co-pilot 60 years ago, told The Gazette in a telephone interview from Ottawa.
"He always took things as they came and rolled with the punches."
Albert Mah Bon Quen was bom Nov 21,1920, in Prince Rupert, B.C. His father, a wealthy land speculator, ran a grocery store, a bakery and a restaurant. Mah attended King Edward High School in Prince Rupert. His father died when Mah was 15 and the family returned with his remains to live in China.
At 18 he won the British Columbia Golden Gloves boxing championship. He then went to California to take flying lessons. In 1941 he landed a job with the Air Observers School in Edmonton where he worked with First World War flying ace Wop May, teaching Canadian air force pilots aerial reconnaissance and bombing techniques. Mah then joined the Commonwealth Air Training Program, which involved building 120 airports across the country, and was sent to Quebec City, where he started working for Quebec Airways.
He often described flying as "hours and hours of boredom punctuated by seconds of excitement." To relieve the boredom, he took up the saxophone and practised in the cockpit.
"He sure made a lot of noise with it. But he was consistent. He kept up his playing," Taylor said.
When Mah's family in China was threatened by the Japanese occupation in the early 1940s, he left Quebec Airways for the China National Aviation Corp., then a subsidiary of Pan American Airways, to be closer to them.
Unable to speak Chinese or to find an interpreter who would accompany him, Mah pretended to be a deaf mute and walked through Japanese lines in China to his ancestral village, Fei Gno.
He managed to smuggle his 12- year-old sister, Bernice, out of the county. They hid in a coffin to get by sentries as Japanese fighter planes strafed the riverboat carrying them to safety.
With the Japanese surrender in 1945, Mah and his brother, Cedric, also a pilot, started National Skyways Freight Corp. in Shanghai to supply Nationalist Chinese forces in their struggle with the communists.
During the Chinese Civil War Mah flew 420 missions over the so called Burma Hump, smuggling supplies to nationalist forces. Because of his exploits he became a marked man. Once,he was about to leave on a mission when he overheard two people mention his name and the word "suspect" in the same breath. Mah backed out of the deal and hours later the pilot who replaced him was blown out of the sky.
All the while, Mah invested in Montreal real estate and from time to time returned to the city to look after his business interests.
During one trip in 1946 he crashed his plane near Terrebonne. Both his legs were broken in the accident.
Actress Dawn Greenhaigh, who began her career in Montreal, knew Mah since she was 15 years old and a refugee from Communist China, living in HongKong.
"If it weren't for Al, my life would be entirely different," Greenhaigh told The Gazette.
"He rescued me, took care of me, financed me, and because my parents were being held in China, he found families in America that would care for me. He was very charismatic, very courageous and very good-looking. He did everything. This was a guy who was out there."
Greenhaigh and her daughter Megan Follows, who starred as Anne of Green Gables in the movie version of the story, returned to China with Mah in 1998.
"The irony is growing up in China, I spoke more Chinese than he did," Greenhaigh said.
Mah went into partnership with Montreal businessman Tommy Wong in 1950 to open the Curtis-Reid flying school in St. Hubert.
Mah took night classes at Sir George Williams University and completed his bachelor of arts degree in English literature at Concordia University in 1979. He wrote a paper on the Chinese Civil War, titled "A Glimpse From the Air".
He worked on the Distant Early Warning Line of radar stations, trained North Alantic Treaty Organization pilots at Gimli, Man., and during construction of the James Bay hydro-electric project in the 1970s flew Hydro-Quebec executives around the north.
In 1995, the U.S. Air Force awarded him its Distinguished Flying Cross and Air Medal "for participating in operational flights over the dangerous and difficult Assam-China air route."
Mah was a member of the board of the Association of Alumni of Sir George Williams University since 1980. In 2002 he was the recipient of the university's Benoit Pelland Distinguished Service Award.
Mah married Jewel Martin in 1956, and they had three daughters and a son. The marriage ended in 1967.
ahustak@thegazette.canwest.com
This Reprint is possible through the kind permission of the author, Al Hustak, Montreal
Oral history story
Globe and Mail story
Story: 575 Flights across the Hump
Gallery