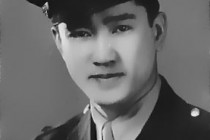 MONTREAL — During a leave of absence from the China National Aviation Corp. in 1944, Albert Mah hatched a daring plan to enter Japanese-occupied China and rescue his family trapped in the crosshairs of a three-way war.
As a member of a squad of transport pilots, he had the perilous task of piloting supplies over the "hump" of the Himalayas to nationalist forces. At the time, Japan had possession of Burma and the coast of China, so the hump route from India was the only way to bring in supplies.
Flying mostly Douglas DC-3s, they airlifted gasoline, ammunition, explosives and large amounts of American-minted Chinese currency into China and then brought back silver, tin and such commodities as hog bristles. It was one of the most hazardous air routes on the planet. Unpredictable winds, towering mountains and blinding cloud cover made for challenging flying, not to mention attacks by prowling Japanese fighter planes.
Mr. Mah interrupted one of his missions to journey across China, then being fought over by the invading Japanese, the ruling Chinese nationalists and the emerging Communists, to find his mother and sister deep behind enemy lines in the village of Fei Gno. Born in Canada, Mr. Mah had a limited comprehension of Chinese dialects, so he pretended that he could neither hear nor speak in order to escape questioning by the Japanese.
"I had to conceal myself in a coffin to get by a sentry post and I nearly suffocated," he once told an interviewer. By the time he arrived in Fei Gno, he'd come to the conclusion that the enterprise was too risky and that he should take back only his 12-year-old sister, Bernice. Together, they circumvented Japanese positions under cover of darkness and rested by day in bordellos. On one occasion, the boat on which they were travelling was strafed by Japanese Zeros. Eventually, they made it to safety. Bernice went on to India, and Mr. Mah returned to flying.
The son of a well-to-do land speculator and grocer, Albert Mah was born in British Columbia, where he went to school and where, as was his nature, he courted adventure. "When I was young, I was very mischievous," he once told a reporter. "One time, when I was about 10 years old, me and Bobby Wood stole some ice cream… big globs of it. Well, my father got his police friends to put us in jail for eight days. It sort of backfired. Our friend Taffy, he cooked us hamburgers and hot dogs and French fries all the time, so that after eight days I didn't want to go home and eat roast duck, tofu, snow peas and all those things."
In 1935, his father died and the family returned to his home village in China. The 15-year-old found life in Fei Gno bewildering. "There was no running water or electricity — nothing like that. There was hardly any modern infrastructure at all. Everybody had to haul their water from wells and grow their own vegetables."
He stayed a year before pleading with his mother for the boat fare back to Canada. Once home, Mr. Mah stayed with relatives. He graduated from Prince Rupert's King Edward High School in 1938, the same year he won the B.C. Golden Gloves championship. He then moved to California to take flying lessons. He graduated to the role of teacher when, in 1941, he landed a job in Edmonton to help train air force pilots as part of the Commonwealth Air Training Plan. After that, he was sent to Quebec City to fly for Quebec Airways.
"Pan American phoned me in late 1942, wanting me to go over and fly in China" for the Chinese National Aviation Corp., he once told Ebb 'n Flow, a British Columbia publication. "I was told by the War Mobilization Board that I couldn't leave because all staff pilots were frozen. "Finally, I got a letter from my sister in China, saying that they were in very desperate straits. I wrote a letter to Ottawa and they finally let me go."
By flying for Pan Am-owned CNAC, he became a "flying tiger." In China at that time, a fighting man of any description was known as a "tiger," so all wartime pilots were called "flying tigers," a storied name also adopted by the American Volunteer Group of fighter pilots led by American Colonel Claire Lee Chennault.
As a hump pilot, Mr. Mah flew 420 missions and joined a fraternity of practical jokers who, bored by the long, tiring flights over the Himalayas, loved to play pranks on one another. Mr. Mah described the endless ennui, punctuated by moments of terror when wings would ice up or enemy Zeros appeared, as ideal conditions for humour. He and a CNAC manager named Howard Brush Dean were perpetually oneupping one another with their mischief-making. Mr. Mah described how he would sneak enough Tabasco into Mr. Dean's coffee to make him choke. Mr. Dean sought revenge. "He'd put in my underwear, tiny thorns that my flight-weary senses wouldn't detect until dinner. I'd sit down and then shoot up in pain to the guffaws of crew members and servants."
In any event, Mr. Dean did survive and went back to the United States to marry and father presidential candidate Howard Dean. An operations man rather than a pilot, Mr. Dean had suffered diphtheria as a boy and could not join the armed forces, so chose a job with Pan Am in Africa, followed by a stint with CNAC. After the war, he became a successful Wall Street executive.
A gifted saxophonist, Mr. Mah also loved nothing better than to perform recitals at 17,000 feet. His solos once brought a brush with danger. He had been playing The Sweetest Mile is the Last Mile Home, entertaining other hump pilots via the radio, while descending toward an air field in the Assam Valley when all hell broke loose below them.
"I'd been playing saxophone over the microphone and it jammed the airwaves, so that none of our planes could hear the alert. When we got over the station, we found our operations shed burned right to the ground. The Zeros had just left," Mr. Mah said. "Then the radio operators, who were located away from the field, told us to get the hell out of there because they were coming back. When I finally got down, I caught hell for playing the saxophone."
After the Japanese surrender, Mr. Mah and his brother Cedric, also a pilot, started National Skyways Freight Corp. The Shanghai-based airline supplied nationalist forces in their fight against the Communists. It was an atmosphere thick with intrigue. On one occasion, he was negotiating a flight to Kumming with a supplier in a Hong Kong restaurant when he overheard his name mentioned at a nearby table. Fearing that he was being double- crossed, he backed out of the deal. It was a prudent decision. The plane later blew up in mid-flight.
Actress Dawn Greenhalgh, mother of Megan Follows of Anne of Green Gables fame, was a 15-year-old refugee living in Hong Kong when she first met Captain Mah. "If it hadn't been for Al, my life would be entirely different," she once said. Her parents had been held in a prisoner-of-war camp during the war and Mr. Mah, a family friend, had promised to look after the girl after she made her way to Hong Kong. "He rescued me, took care of me and financed me… because my parents were being held in China," she told Ebb 'n Flow. "He was very charismatic, very courageous and very good looking."
After the Communist victory in China, Mr. Mah returned home and opened the Curtis Reid flying school in St-Hubert, Que. Ironically, the skies over Quebec proved to be as treacherous as those over the rooftop of the world. In 1946, he crashed his Cessna into the woods near Terrebonne, Que, and suffered a skull fracture and two broken legs.
Mr. Mah later worked on radar stations for the Distant Early Warning Line and trained NATO pilots at Gimli, Man. In 1956, he married Jewel Martin and they had three daughters and a son. They divorced about 10 years later.
While he continued to fly, Mr. Mah also pursued a second career as a Montreal real-estate investor and went to night school at Sir George Williams University. In 1979, he graduated from Concordia University with a BA in English literature. Later, he served on the alumni board and, in 2002, the school awarded him its Benoit Pelland Distinguished Service Award.
Albert Mah Bon Quen was born in Prince Rupert, B.C., on Nov. 21, 1920. He died in Montreal on May 6, 2005. He is survived by his children Alicia, Arran, Heather and Hilary.