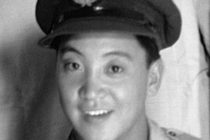 Story courtesy of the Lethbridge Military Museum.
"Flying Officer Charles Chow-Leong was the son of Mr. and Mrs. Ling Chow-Leong of Lethbridge.  He was born in 1922 and later attended White School near Wilson Siding and also studied at the Lethbridge Collegiate School.  Charles worked for a time in the Ritz Cafe prior to enlisting in the Royal Canadian Air Force in May 1942. He received his "wings" as a pilot from Number 7 Service Flying Training School, Fort MacLeod.  In so doing he became the first Chinese Canadian to join the RCAF as a pilot.
The Niagara Falls, New York Gazette carried an article which quoted him as saying: "he has one ambition – to help smash Berlin with bombs and then climax his career as a pilot by bombing Tokyo".
He then went overseas to Britain in March 1944.  Almost immediately after his arrival in Britain he was posted to the Far East.  His duties in India were completed by August 1945 and he was posted to Brussels, Belgium as a member of the occupation forces in Europe.
Following World War II he became a pilot for the Chinese National Airline and flew many thousands of miles ferrying planes from North America to China.
In Lethbridge he became owner of the city block housing the Rex Fruit store and several other businesses.   As well, he owned some property in Edmonton.  He rejoined the RCAF in July of 1951 and held the rank of Flying Officer at the time of his death.
At 11:00 AM on February 4, 1952 a C-45 Expeditor (number 1478) took off from Number 2 Air Navigation School at what is now Canadian Forces Base Winnipeg.  Though the war was over, Winnipeg was still a major hub for training pilots and navigators from across the Commonwealth and the Expeditor was the RCAF's standard training plane.  At the controls was 29 year old Flying Officer Charles Chow-Leong, a decorated veteran with 6,000 flying hours' experience.  Also aboard were two Royal Air Force students from England, Acting Pilot Officer Peter F. Harvey and Acting Pilot Officer Edward Scanlan.  During Chow-Leong's flight, weather conditions worsened.  Winds picked up and a heavy fog rolled in.  At 11:55 AM the Expeditor was returning to Winnipeg when it struck a CBC radio transmission tower located just outside Carman, Manitoba.  At a height of 570 feet it was said to be the tallest man made structure on the prairies at the time.  The crash was spotted by a passing motorist who notified employees inside the CBC building.  Though they rushed to the wreckage there were no survivors.  Flying Officer Chow-Leong was buried in the Lethbridge Mountain View Cemetery.  During his military service he had been awarded the 1939-1945 Star, the Burma Star, the War Medal 1939-1945 and Canadian Volunteer Service Medal."