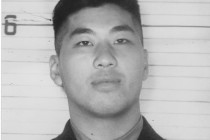 George Lee (R-168494) was born on December 29, 1915 in Hamilton, Ontario, the son of Wong Lee (who came over from China).
When the Second World War broke out, Lee was working as a restaurant manager at the New Era Grill in Port Colborne, Ontario (1938-1942). By the time he decided to enlist, Lee was already 26 and still single. He signed up at the RCAF branch in Hamilton on June 9, 1942.
Lee was rated by the recruiters as "sincere, intelligent" and having a "good personality". However, unknown to Lee or the RCAF recruiters, he had terrible night vision. After several tests and tryouts, Lee was told he could not join aircrew and he was re-mustered to Electrician in April 1943.
Now as a Leading Aircraftman (Air Crew Electrician), Lee took many courses and achieved top grades. He trained at various locations in Ontario, Quebec and Nova Scotia. While stationed on the east coast, he got into a bit of trouble. Lee was caught gambling in the barracks and was sentenced to ten days in correctional custody.
By January 1944, Lee was on his way to England where he did a six-month orientation before heading to continental Europe.
He arrived at a promising time in France: June 29, 1944 — a few weeks after the successful D-Day invasion. Lee would serve in Europe until August 15, 1945 when he was sent back to RAF Dunsfold in England.
By December 1945, Lee was on his way back to Canada. He was honourably released from the RCAF and transferred to the Reserve, General Section, Class "E" on February 7, 1946.
By this time, restaurant work no longer appealed to Lee. In his final interview with Veterans Affairs, he told officials he wanted to get an engineering degree in the U.S.  Lee was now 30 years old and Veterans Affairs was sceptical. Their comment in Lee's files:
"Only because of this man's age is it difficult to full (sic) recommend his aspirations … Restaurant work does not appeal to him now. Would be suitable for salesmanship where people of his own race are being contacted." 
We don't know if Lee ever achieved his dreams. We only know that he passed away in Hamilton, Ontario on June 18, 1966. He was only 50 years old.
If you know more of George Lee's story, please contact our museum at: info@ccmms.ca
A special thank you to B.W. Shandro who supplied our museum with George Lee's story and donated Lee's photos and medals.