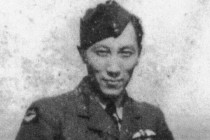 Harry Gong was likely one of the only Chinese Canadians to be assigned to fly the famous fighter plane, the Spitfire.
He was born on February 2, 1920 in Clinton, BC. When the Second World War broke out, Harry signed up in Montreal in the summer of 1943 and took his basic training in Toronto, Guelph, St. Catherines and Trenton. Initially he was posted to Halifax where he flew Hurricanes on Atlantic Patrol for the RCAF.
Later he was assigned to the RAF in India. There Harry flew many missions in India and Burma in his favourite aircraft, the Spitfire.
He returned to Canada in the spring of 1945 and was rewarded with the Canadian Volunteer Service Medal, the War Medal and the Reserve Badge.
Harry felt it had been a unique privilege to serve both with the RAF and RCAF. He was also delighted to be included in the Canadian Chinese War Veterans Memorial in Chinatown, Vancouver, BC.
Harry passed away peacefully on February 19, 2002 in Victoria, BC.