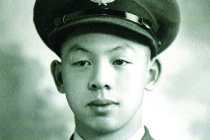 More than 60 million people died in the conflict that was the Second World War. Here is the story of one person. A story of one young man who was lost … and finally found.
LOST … AND FOUND.
March 23, 1945: Six weeks before the end of the war in Europe, tragedy struck a Chinese Canadian family in Winnipeg.  Their 22-year old son, Jim Gen Lee, a navigator in 101 Bomber Squadron, set off on a mission over Germany. His plane never returned to its base in England. Lee was reported missing in action and his family was informed by a telegram.
March 25, 1945, Two days later, Lee's mother received a letter from the K. Flint, the squadron leader commanding the 101 squadron in England. In his one-page, type written letter, Flint tried to be optimistic "…The aircraft in which your son was a member of the Crew took off on an Operational Sortie over enemy territory, but I regret to say failed to return to base. No messages were received from the aircraft after take off, and nothing so far has been heard of it…There is always the possibility that they may have come down by parachute or made a forced landing in enemy territory, in which case news of this would take a considerable time to come through."
LETTERS OF GRIEF
For the next five months, Lee's grieving family, and two of the families of the other missing Canadian crew members, exchanged letters as they searched for the fate of their sons. Here are excerpts from those letters.
August 5, 1945
Letter to Jack Lee' (brother)

"…My son spoke several times in his letters of your brother, saying Jimmy Lee his navigator was a good chap and a splendid navigator. …We must not give up hope, miracles happen. Please God, maybe we will have our boys returned to us … Glad to know your parents have other children to ease the pain and grief. Bob was my only child."

Mrs. R. S. Little, Lockport NJ
Mother of Pilot Ralph Robert Little (J41724, aged 23)
August 13, 1945
Letter to Jack Lee (brother)

"…I have some news and it is not good news. A friend of Wilfred's came to my place yesterday and informed me that he saw the plane go to pieces in mid-air and no parachutes left it, so it would appear that the poor lads hadn't a chance in the world.

I am sorry to have to convey this news to you just as I was sorry to hear it. This is my second son to get killed in the Air Force. My son always spoke highly of your brother."

R.B. Brooks, Edmonton, Alberta
Father of Wilfred Henry Brooks (J43608, aged 21)
MYSTERY SOLVED
At the Chinese Canadian Military Museum, our mission is to research, collect, preserve and document these stories. This is what we learned about Lee's last days of life. We thank members of the 101 Squadron Association U.K. for sharing their archival files with us.
March 16, 1945
Lee flies his first mission with 101 Squadron. He is part of a new crew piloted by American Ralph Robert Little (RCAF). Only one other airman is Canadian: bombardier Wilfred Brooks of Edmonton. The rest of the crew are British RAF men.
They're assigned Avro Lancaster Mk III, code letters SR-S, and affectionately known as "The Saint." This plane had completed 119 operations and was in competition with another 101 Squadron Lancaster, SR-H, for the unit record of safe returns.
March 23, 1945  06:58 a.m.
After an early morning briefing, Lee and his crew mates lift off on what would have been their third mission. To ensure greater precision, they are assigned a rare daylight bombing raid targeting the bridges near Bremen, Germany. 128 Lancasters take part in the raid that morning, 24 of which are from the 101 Squadron.
March 23, 1945  10:30 a.m.
This photo of SR-S was taken shortly before its demise: the tally of 119 missions is visible under the cockpit. At 10:30 a.m., SR-S goes down. Another plane, SR-U, piloted by Canadian Reg Paterson, also falls from the skies. All men on Little's plane are listed as missing. Four die on Paterson's plane, the rest become POWs. No one is sure what happened: a ME262 was spotted in the area, but the crash could have been due to a mid-air collision or a bomb mistakenly dropped from above by an ally plane.
POSTSCRIPT
In 1949, Lee was found, along with his crewmates, buried in a Russian military cemetery near Vechta, Germany. A temporary cross marked the site. Their remains were later moved to the British Sage War Cemetery outside Oldenburg, Germany. All seven young men are buried next to each other.
We would like to thank the 101 Squadron Association and Jim Lee (nephew) for providing photos and information for this story.