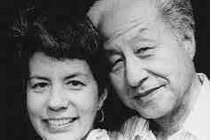 returned from China in time to join RCAF
Sgt. Kim Yuen Lee flew with Al Mah in the World War Two. They were both from Prince Rupert, B.C. He was the brother to Margaret Shiu, widow of Daniel. Here Kim is pictured with his daughter, Audrey Lee Fatula. Kim passed away in 1998.
Kim was born in Vancouver but his family moved to Prince Rupert when he was young. He was sent to China for a classic Chinese education for two years.
He returned to Canada on the last boat back to Canada, the Empress of Japan. In March 1943, he enlisted with the RCAF and was posted to Edmonton Manning Depot. He graduated as a pilot and went on to be a navigator. He was flying with Albert Mah when their plane crashed at Terrebonne, near Montreal February 15, 1946.
He was released from the RCAF August 16, 1946.