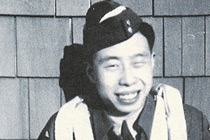 Monty Lee was raised in Vancouver's Chinatown at a time when Chinese born in Canada were denied the right to vote.
He was initially rejected by the RCAF when he tried to sign up. But eventually, the race restriction was lifted and in September, 1941 Monty began training with the Air Force.
He went on to specialize as a bomb aimer and flew in a variety of bombers including the four-engine Halifax bomber.
He was assigned to coastal patrol and was stationed out of Labrador. Monty spent hundreds of hours flying up and down the eastern coastline looking for German U-boats while accompanying merchant marine convoys out to sea.
His efforts enabled hundreds of ships to carry vital supplies from Halifax to war-ravaged Great Britain.
Watch Monty describe his experiences to his grandson in 2014.
Check out Monty's interview for the Memory Project.
Check out a Summer 2017 interview with Monty.