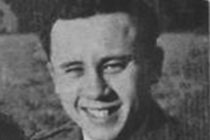 Peter James Lim (J44685) was the son of Harry and Margaret Lim of Toronto. He was born March 23, 1922 and died June 23, 1945, shortly after the war in Europe had ended.
Lim flew as a navigator with RCAF 409 Squadron. He was first stationed in England and then in liberated Europe.
Lim's last trip seemed quite routine. He and and his crewman, Fl/Lt. John Henry Skelly (23), were taking a Mosquitio MK XII from Twente, Holland to another airfield in Germany.
It was 10:00 am and Skelly was at the controls. According to eye witnesses, shortly after takeoff, and while trying to get into formation with another Mosquito, Lim and Skelly's aircraft nose dived into the ground. They died upon impact, as did two Dutch civilians on the ground and a New Zealand airman (Fl/Lt James William George) who was a passenger in their plane.
Lim was laid to rest in a churchyard in Enschede Eastern General Cemetery (Grave 189) a few kilometres south of the airfield where they perished. He is buried next to Skelly and George.
According to some, Lim and Skelly were both due to go home to Canada the following week.
Special thanks to Michael Denesyk for sharing this story with us.