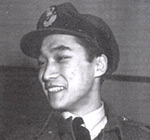 Quan Jew Louie (J38242) was born in Vancouver, B.C. in 1922 and was a member of the influential HY Louie family of Vancouver.
Louie attended the University of British Columbia and was an outstanding student as well as an all-round athlete.
Louie enlisted in the RCAF in November, 1942. For some reason, the Air Force recorded his middle name as "Jil" on all his records, whereas his actual middle name was "Jew".
While in basic training at the No. 3 Manning Depot in Edmonton, Alberta, he met three other Chinese Canadian airmen: Douglas Sam, Arthur Jung (who would go on to become a pilot) and Fred Bing (who would be a Wireless Air Gunner). Louie and Sam indulged in a farewell dinner together before being assigned to separate depots.
Louie went to the initial flight training school, and then on to Bombing and Gunnery school. He wanted to be a pilot, but his records indicate that although very bright and athletic, he became too tense when flying a plane at low altitude. So Louie was re-mustered to bomb aimer.
Later Louie went to the No.7 Air Observer School at Portage La Prairie in Manitoba. On November 12 1943, he graduated as a commissioned Pilot Officer, earning his Bomb-Aimer's Wings. He was assigned to England and left Halifax, Nova Scotia March 5, 1944, on the Troopship Andes, arriving in Liverpool on March 14. His training continued at the No. 7 Advanced Flying Training Unit at Bishops Court, County Down, and the No. 2 Operational Training Unit in Wellesbourne.
Pilot Officer Louie was promoted to Flying Officer after finishing his conversion training from two to four-engine Halifax III at Dishforth, Yorks, in the period of August 9 to September 12. He was then posted to No. 6 Group RCAF Bomber Command, No. 420 (Snowy Owl) Squadron at Tholthorpe. Louie flew almost 30 missions over Europe.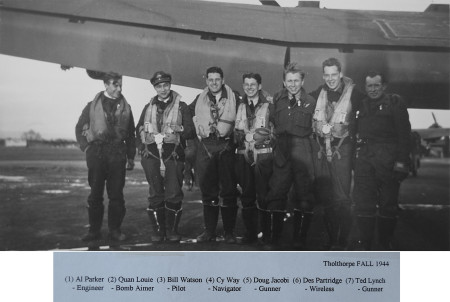 In early January 1945, the Allies launched intensive bombing raids over Germany. On a raid that took place on January 16/17, Louie's Halifax bomber was hit by enemy flak and caught fire over Madgeburg, Germany. An eyewitness to the carnage, a German farmer, later described the plane as out of control and a ball of fire before it crashed in a field.
Fortunately, two crew members who were both Canadian — Flight Sergeants Doug Jacobi and Ted Lynch — survived the harrowing experience. They were situated near the middle and back of the plane and managed to bail out of the burning Halifax with their parachutes. Both spent the remainder of the war in a German POW camp.
Louie, as the bomb aimer, would have sat right over the front escape hatch. In some ways, he should have had the best chance to survive. But after the war, interviews with Jacobi and Lynch suggested that after the plane was hit, the front hatch jammed and that's why no one at the front of the plane was able to escape.
Those killed were:
Bill Watson (RCAF Pilot);
W.J. Partridge (RCAF Wireless Operator);
A.K. Parker (RAF Engineer);
C.W. Way (RAF Navigator); and, of course,
Quon J. Louie (RCAF Bomb Aimer).
Louie was only 23 years old. He and his crew mates were buried in Collective Grave No. 5 in the Berlin 1939-1945 War Cemetery located in Charlottenberg, Germany.
His brother, Ernie Louie, who was stationed with Special Operations Force 136 in Japanese-occupied Malay, did survive the war and returned home to Vancouver.