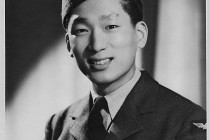 one of the first in the air force
Thomas Kwok Hung Wong (R.172154) was one of the first Chinese Canadians to be accepted into the RCAF. He made his first attempt to join the airforce in 1939, but was told to wait. He was only accepted once the Japanese had bombed Pear Harbor in Hawaii.
Was motivated by adventure, the love of flying and the desire to seek equal rights for Chinese Canadians.
Read his story in the Richmond News (November 2016).
Hear Thomas' story as told to The Memory Project.
Listen to this 2017 interview with Thomas, recorded a few months before he turned 100 years old.