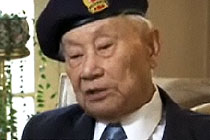 a secret agent whose career never had a dull moment
Bill Chong, born in Vancouver, was caught up with the Japanese takeover of Hong Kong in 1941 and volunteered with the British Army Aid Group, an intelligence unit, serving as Agent 50 under extreme dangerous and hostile conditions in China.
A war spy's story of survival Bill Chong worked behind enemy lines
by John Mackie, Vancouver Sun
Monday, November 11, 2002
When the Japanese soldier asked him how he would like to be killed — "be shot or have my head chopped off" — Bill Chong quickly made up his mind.
"Shoot me," he said.
Chong and the man he was travelling with were handed shovels to dig their graves. But the ground was hard, and after a few minutes, their captors' patience wore thin. They were asked to kneel before the grave, and a soldier pulled out a sword.
"They said, 'Bullets cost money,' " recalls Chong.
Just before the soldier was about to chop off his head, the other prisoner spoke in Japanese, urging the soldiers to look in his vest pocket. They took out a weathered note, read it, untied the pair and walked away.
Chong was so scared, he just lay on the ground, unable to move. As a spy operating behind enemy lines in mainland China during the Second World War, he was used to danger, but this was a little too close for comfort.
Chong survived the war, and at 91, is one of a select group of veterans — Chinese-Canadians who joined up to fight for Canada and the British Empire at a time when they weren't allowed to vote or go into professions such as medicine or law.