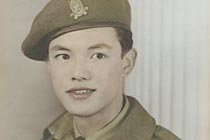 Bing Chew Wong grew up in Alert Bay on Vancouver Island. His older brother Frank Wong joined the army. And a few years later, Bing signed up too.
He became an expert marksmen. And although Bing weighed not much more than 100 lbs, he could often be seeing hauling around a 25lb Bren gun.
By May 1945, the war in Europe was over but the conflict in the Pacific theatre raged on. Bing decided he might as well volunteer for the Tiger Force. This was a special group of volunteer Americans, Canadians and British who were being specially trained for an eventual invasion of Japan. That invasion was set for November 8, 1945. Bing was sent to Vernon, in the Okanagan Vallley, to take additional training by Americans.
Listen to Bing recount his story for The Memory Project
Read his interview with the China Daily newspaper.