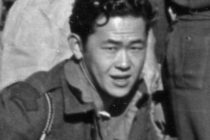 Dick Lam was born in Victoria B.C., the youngest of five children.
When WWII erupted, Dick wanted to make a contribution to Canada even though he was not considered a full citizen by the Canadian government.
He became a member of special commando unit, Force 136 which was based in Southeast Asia. Seconded to British Special Operations, the goal for Force 136 men was to be parachuted into Japanese-held territory, and work with local resistance fighters to undermine Japanese Army. Chinese Canadians were chosen for these dangerous missions of espionage and sabotage because they could easily blend in to the population.
Dick spent time being trained in Canada, and then was sent to Australia for his more gruelling, commando training. Here soldiers learn to survive in the jungle with few provisions. They also learned how to kill silently, swim silently carrying 50 lbs of gear, parachute, live off of insects and jungle plants, and more.
On August 15, 1945, seven hours before Dick and the rest of his team were to leave for their first mission, the Japanese announced their surrender. The war was over. Dick would live to see another day.
Unfortunately, Dick soon realized he was stuck in Australia: the British had made no provisions to get their Chinese Canadian recruits home to Canada. The Force 136 mean recall having to approach cargo ships coming into port and asking if they could work in exchange for a ride back to North America. All reached home but only after working spending a couple of weeks as a cook or a deckhand.
Dick finally arrived back to Canada later in 1945, and as noted in Lam's obituary.
"Upon his return to Canada, he met the love of his life, Doris, in 1948; they married in 1950, the start of a 67-year-old love story. He built their first home on Cedar Hill Road, where he and Doris built a life together and raised three children.
For most of his working life he was employed in the grocery wholesale business, first at Pioneer and then at Macdonalds Consolidated/Canada Safeway. He retired in 1986, a few years before tackling his most favourite job of all, that of a loving and doting grandfather. We will always remember Dad for his suave sense of style (including moustache and arm tattoo), his wicked sense of humour, his sweet affinity with dogs (especially Yogi, Sandy, and Lindsay), and his profound love of family."
Lam passed away on April 12, 2017 at the age of 91.