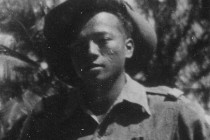 Like many Chinese Canadians during the Second World War, Dick Yip (K.7853) signed up for the Canadian Army but was never called up due to the fact he was Chinese.
After the Japanese entered the war, and invaded large swathes of South East Asia, things changed. Men like Yip received a letter inviting them to begin their training as soldiers.
Yip would not be any ordinary soldier. He agreed to become part of a very special and rather secretive assignment. He would be loaned to British Intelligence, trained in survival and guerrilla warfare tactics, dropped behind Japanese lines, and tasked with seeking out and assisting local resistance movements in the jungles of South East Asia. In other words, Yip would become a combination spy and commando soldier in Force 136.
After basic training, he was shipped to the steamy climes of India where he continued on his guerrilla-style training. Fortunately for Yip, the war ended before he was fully deployed.