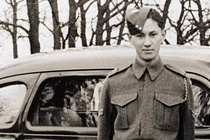 became the first Chinese Canadian member of parliament
Born in Victoria, B.C. in 1924, he was the youngest of three boys and was fascinated by the allure of military life.
Doug's venture into the Canadian Army led him to Operation Oblivion, a volunteer group trained in guerrilla warfare.
His most rewarding career path started with his law practice. When he ran for politics; he became the first Chinese Canadian Member of Parliament and was appointed by Prime Minister John Diefenbaker as a Canadian representative to the United Nations as Chair of the Canadian Legal Delegation.
He also introduced a controversial amnesty program for the Chinese immigrants who came into Canada illegally. Despite the initial resistance from the Chinese community, 12,000 Chinese came forward to adjust their status and in turn, they were allowed to bring in 50,000 new immigrants.
A DVD on the life of Douglas Jung, "I Am The Canadian Delegate", produced by Wesley Lowe, is now available at Filmwest.  Here is a shortened version of that film.
Gallery