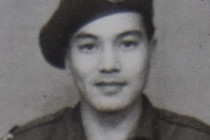 Ernie KW Louie was among a very select group of Chinese Canadians in the Second World War who were trained in commando-style warfare as part of Force 136 … and then deployed behind Japanese lines in Malay.
Louie was a member of an all-Canadian team lead by Major Joe Benoit, and dubbed Tideway Green. Louie's role was as a Cantonese interpreter. Captain John Hanna was the Mandarin interpreter and Captain Roger Caza served as the team's wireless operator. On August 5, 1945 the group was dropped in north Johore, Malay.
What happened next is described in Marjorie Wong's book The Dragon and The Maple Leaf:
"They remained at base for about five days and then set out on what was supposed to be a three-day trip through the jungle. Some of the equipment and kit had to be discarded to lighten their loads. The trip lasted a nightmarish seven days as they tramped 85 miles through swamps and dense jungle. It rained for three full days and their boots disintegrated. They were able to retain only items necessary for their survival because of the lack of carriers."
The group endured harsh conditions in the jungle with equipment breaking down and little food. It was even worse for the civilians and resistance fighters they encountered, who had been suffering for a few years due to severe food shortages.
Fortunately, the Japanese surrendered not long after the team arrived in Malay. That enabled Louie and his group to focus on finding and liberating prisoner-of-war camps. They also played a role in arranging for much-needed relief drops of food and medical supplies.
One of the biggest challenges for Louie and Tideway Green men was keeping the peace and dealing with the inevitable conflict and retribution that occurred after the occupation. Louie spent some of his deployment doing police administration duties.
He left Malay on November 12, 1945 and returned to India first (where he had done his commando training), and then eventually back to Canada.
When he came back home, Louie, along with his fellow Force 136 friends Henry Fung and Ted Wong, sported dragon tattoos on his forearms. Apparently all three wore the same design but Louie, being a lot taller than the other two men, was known to have a "big dragon" etched onto his arm.
Unfortunately, Ernie lost one of his brothers during the war. Quon J. Louie was a bomb aimer with the RCAF, and killed in action over in January, 1945 over Germany.