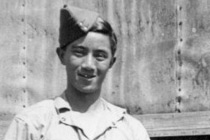 Frank Wong was one of the founders of the Chinese Canadian Military Museum.
Here is some of Frank's war story as told to Senior Living Magazine in November 2010.
"I was born in Canada and was proud to be Canadian, but there was so much discrimination," he recalls. "We were not allowed to go in a public swimming pool and if we went to the movies, we had to sit in the back row. I guessed that if I joined the forces and showed my loyalty to Canada, they would give me the right to vote one day."
Frank enlisted when he was 22 and, after receiving training, he sailed to England where he served in the Royal Canadian Ordinance Corps of the First Canadian Army. "We were in charge of supply and repair," he says. "My first night there an air raid alarm went off. I went running for the bomb shelter, but a sergeant stopped me and told not to worry. He said they were going to bomb London and I could go to sleep. The first few times it happened were very exciting, but I soon got used to it. I stayed in England at Epsom Downs until the invasion in 1944."
One of the advantages of serving in the army was that for the first time in his life, Frank was treated as an equal.
"I was accepted as one of the members of the corps, same as everyone else," he recalls. "There was no discrimination whatsoever, I was just one of the boys. There was this Canadian girl who had married an English fellow and lived near our base. They often had me over for dinner, and she would make me a lemon pie. When we landed in Normandy, they called me in and promoted me to lance-corporal and all the men respected my rank, even though I was the only Chinese man out of 200 men."
Over in Europe, Frank and the rest of his corps operated on a mobile base. Everything was on wheels including the office, the machine shop, bunks, and all the spare parts. When the First Army moved, the corps followed, repairing vehicles and weapons as they went. Frank recalls the liberation of France.
"It was uplifting all the way through France. It was quite exciting. Every time we would go into a village, the people would come out and wave to us. The children would ask for our autographs and would bring us food and wine. One town even bestowed special honours on our unit, since we were the first soldiers in after the Germans left."
Many of the realities of war hit home once they arrived in the Netherlands.
"There was this one town, the Dutch citizens were absolutely starving when we got there," Frank recalls. "We felt so sorry for them, especially the children. Many of us would give half of our rations to the kids until our commanding officer found out and forbade us from doing so. He told us that we needed to keep our strength up for the battles ahead and informed us that supplies were on the way for the citizenry of the town. During the Battle of the Bulge, we were informed German paratroopers may land nearby so we made preparations. We felt fortunate that due to our repair jobs, we had plenty of weapons close to hand, but no one landed."
Before the war ended, Frank would have one close brush with death.
"On New Year's Day, I was going for breakfast, just walking down the road when I heard a plane coming in very low. I thought it was a Canadian plane with a pilot who was showing off when I saw flashes coming off each wing and realized it was shooting! I jumped into the ditch until it flew past and, by the time I got out, it was
gone."
When the war ended, Frank was travelling back to his unit from a leave in Paris.
"When our train stopped in Brussels, we joined in on the celebrations," he recalls. "They dragged us into a pub and it was an amazing time. By the time we got back to our unit, we discovered they had been isolated on the base and had celebrated by being allowed one bottle of beer each. It felt great to have it all over."
But not as great as it felt to finally win the right to vote in 1947. Frank says, "Many veterans came back to Canada and were writing letters saying we should have the right to vote. Finally, they agreed and bestowed upon us all the rights enjoyed by every other citizen of Canada. They also rescinded the Exclusion Act, which did not allow Chinese men to bring their wives over. We were quite happy to finally receive the rights and privileges that we should have had all along."
On May 8, 2003 Frank was presented with the Kingdom of the Netherlands Medal of Remembrance for his part in the liberation of Holland in 1944. The Consul General Joop M. Corijn awarded the medal at a simple ceremony held in our museum in front of family and friends.
Oral history story
Memory Project profile
WPJ – Video interview with Jeffrey Yip
Burnaby Now article (2003)
Burnaby Now article (2010)
Gallery