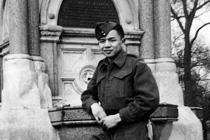 specialized in demolition work
Gordon Quan was born in Cumberland, B.C., on January 14, 1926, to Quan Kay and Woo See. His father worked as a merchant in Chinatown in Cumberland. At the age of 5, Gordon went with his mother to China after his father died. They lived with her parents in a small village in Canton, where he attended school until he was 9 years old. When he returned to Victoria, B.C. he attended North Ward School for several years. He went to the Chinese school on Fisgard Street in the afternoons, studying the language, geography and history of his parents' homeland. When he was 23 years old, he worked in various restaurants, such as the Victoria Cafe and the Mandarin, scraping and washing dishes.
Gordon Quan joined the Armed Forces during the Second World War in 1944 at the age of 18. He spent three months in basic training at Maple Creek, Saskatchewan, then transferred to the British Army for special service in the Southeast Asia Command. For a time he was stationed for training in London, England, and this was when the German V2 (rocket bomb) was flying over England and London was being bombed.
When he was in India and Burma to fight against the Japanese, he was assigned to a special Force 136 and took intensive training in demolition work. He became a demolition expert and engaged in sabotage, blowing up bridges, ammunition, and petrol dumps. After he war activities, he went back to England for transfer to the Canadian Army, from which he was discharged in 1946. He was decorated with the Canadian Force Decoration with two bars, Elizabeth II Medal, Canadian Volunteer Service Medal, 1939-1945 Medal, Burma Star Medal and Order of Military Merit of Canada.
In 1947, Quan too an 18-month course in vocational training in auto mechanics. He apprenticed with the George Mow garage, and worked with a partner in the automotive business for a while. Later he was in charge of a construction firm and worked for 20 years with the City of Victoria. He also did work for the Mechanical Department as a mechanical foreman for five years. He retired in January, 1991.
In 1952, he joined the militia, 40th Technical Squadron, as a craftsman and took a mechanics course again as the civilian course which he took was not recognized by the army. Hw also took other courses including recovery and heavy duty mechanics. He rose to the rank of master warrant officer. In 1964, the 40th Technical Squadron was disbanded and he was transferred to 155th Royal Canadian Army Service Corp. until 1970. Hw was later transferred to the 11th Victoria Service Battalion. He served the Canadian Army for 35 years. He retired as a regimental sergeant major.
Quan was married and has 3 sons and 2 daughters. He is a member of the Royal Canadian Legion Brittanica (Pacific No. 7) Branh, which he served as a sergeant-at-arms. He is also a member of the Victoria Chinese-Canadian Veterans' Association. He enjoys watching hockey and baseball, and spending time with his family and friends.
Gallery