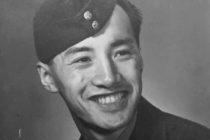 James Ming Wong (B.167696) was born in Victoria, British Columbia on September 17, 1918.
When James was 12 years old, his family moved to Vancouver where his father opened a store that sold everything from "groceries to products imported from Hong Kong." James deeply admired his father and referred to him as "the Godfather of Chinatown" since so many members of the community would seek his father's help and advice.
In the 1930s, during the depths of the Great Depression, James formed a musical group called The Chinese Hill Billies Band. The motley ensemble of young men played on whatever instruments they could find … or make. While James played the guitar and was the band leader, other men played washboards or even a makeshift drum set consisting of tin cans and steel pails. His younger brother, Gilbert Wong, joined in as one of three harmonica players.
The Chinese Hill Billies Band played for fun, to entertain and also raise money for Chinatown causes or relief efforts in China. They had a large repertoire of Gene Autry songs. A favourite tune was "The Red River Valley."
There is only one picture ever taken of the group, which was shot around 1939 on the rooftop of WK Gardens Restaurant (a popular large, restaurant on East Pender Street). The group disbanded in the early 1940s when a number of the young men signed up to join the war effort, including James.
We don't know much about James' time in the Army, but we do know he was selected to be a member of Force 136, an elite group of soldiers who were being trained for commando-style warfare behind Japanese lines. After basic training in Canada, he ended up being shipped to Australia for further training. Australia was the base for men who were destined for operations in the southern regions of Southeast Asia (e.g., Borneo, Malaysia or Dutch East Indies). James learned to parachute and proudly wore the parachute wing badge on his jersey.
Fortunately for James, the war ended before he was assigned to an operation in Japanese-occupied territory.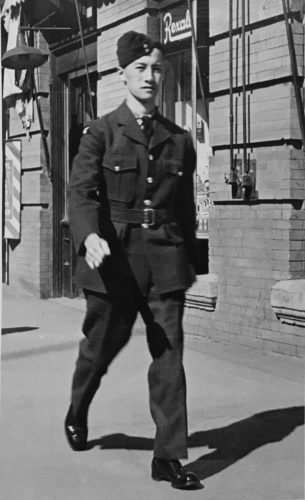 After the war, James returned to Chinatown, but soon had to leave the city to find work in a lumber camp in Kemano and a fish cannery in Prince Rupert.
After he married and started a family, James opened a drying cleaning/tailoring shop in Vancouver. It would be the first of many business ventures that James would try.
In 1962, he moved his family to Edmonton and went into the poultry business. Over the course of his long life, James also tried his hand at: restaurant management; fibreglass prop making; plastic shrink-mould signage; fortune-cookie manufacturing; general fabrication; cabinet making; real estate; and business/auto insurance.
Good with his hands, James was especially proud of being able to solve problems like fixing his car, tailoring a jacket or building his own photo enlarger.
He retired at 69 when his wife passed away. But he kept himself busy with his hobbies included drawing, painting, photography, calligraphy, and woodworking. And his love for music continued throughout his life.
James passed away on May 20, 2015 in Edmonton. He was 96 years old.