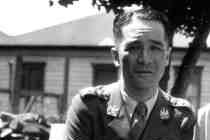 translated Japanese documents for evidence in war crimes trials
K.C. (Charlie) Lowe was born in June 1900 in Victoria, B.C. He attended school there and in the 1920's, enrolled at the University of Chicago, graduating with a B.A. in Asian Studies.
He returned to Canada as one of the first Chinese Canadian scholars. When war was declared in 1939, he was one of the early Chinese Canadians to join the Canadian Army.
Despite his university degree, he began his military career as a Private. After his enlistment and basic training, he enrolled in a Japanese Language Course held in North Vancouver and was one of the first graduates of the S-20 Japanese Language School. Lt. Col. McKenzie, head of the S-20, cited him as "Probably the most highly qualified translator in the Canadian Army."
Charlie Lowe's skill was such that war's end, he translated documents which were introduced as evidence in the War Crimes Trials.
He served in South East Asian Translators and Interpreters Corps (SEATIC) detachment in the Singapore War Crimes Trials and later in the Joint Intelligence Unit in post war Hong Kong.
He remained in the Canadian Army until August 10, 1947 when he left with the rank of Captain and returned to civilian life in his hometown of Victoria, B.C.
He passed away November 17, 1981 in Vancouver.
thanks to LCol George Ing (CF retired) for story and photo
Gallery