Norman Low (born May 9, 1923) was handpicked to be a member of the first Force 136 recruits, which were assigned the ominous, operational codename "Operation Oblivion."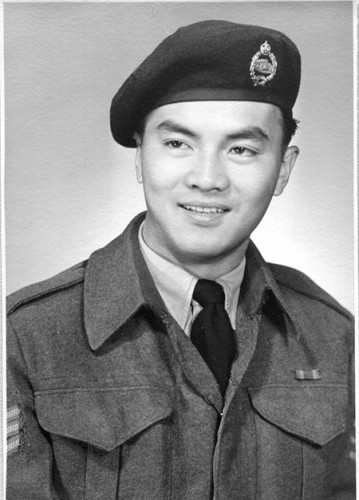 He spent three months undergoing intensive commando training in the Okanagan in 1944 (at Commando Bay) and then was shipped to Australia for further training in jungle survival. While the original Operation Oblivion mission was to go into Japanese-occupied China to support resistance fighters, the mission was scrapped when the Americans took charge of the Pacific Theatre of war.
Not sure what to do next, Low wanted to still contribute to the war effort and agreed to join a small group of Force 136 recruits who would go behind enemy lines in Borneo. The team of Chinese Canadians was captained by Roger Cheng, and included local British Columbia boys Louey King, Roy Chan and Jim Shiu … as well as Low.
In 1945, the young men got on a Catalina Flying Boat and landed near Sibu — which was now part of Japanese-held Borneo. Their mission was to contact and organize a tribal group – the renowned Dyak headhunters. Certainly it must have been a bit unnerving to meet such a fierce group of tribal warriors and enlist their trust and help.
Eventually the role of the Force 136 men in Sarawak expanded to include: providing equipment and training; assisting with sabotage; locating isolated Japanese units and forcing surrender; finding POW camps; organizing tribesmen into local security forces; patrolling rivers; and preventing revenge massacres of Japanese troops and suspected collaborators.
Although Japan officially surrendered in August of 1945, it would take several more months before isolated Japanese units gave up their arms. Low did not return to Canada until February 1946. A Vancouver Sun newspaper story and photo captured the moment and only hinted at the interesting mission to which these young soldiers were assigned.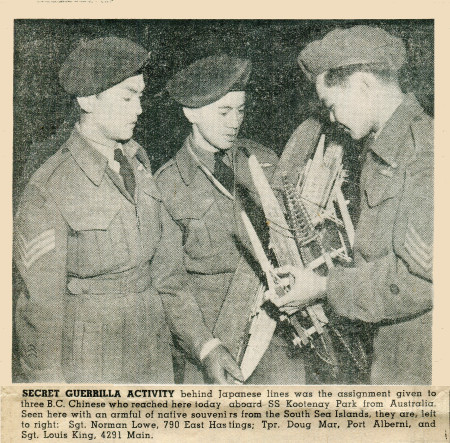 Once home, Low became very sick and eventually ended up in hospital. He developed pneumonia and pleurisy — a complication of his having contracted malaria while in Borneo. At first, hospital doctors and the Canadian Army could not understand nor believe that Low was afflicted with malaria. After all, no regular Canadian soldier had served in areas where the infection was present.
Given the secrecy around his mission, Low was not at liberty to explain fully why he was in the jungle.
By September, 1946, the Canadian Army decided that what these young men had accomplished was worthy of recognition. They awarded Low and his team mates with the Military Medal. It was the first time that their unique and dangerous assignment was shared publicly.
The Army's news release stated that Low… "Organized communications for patrols which gave field headquarters vital information. With utter disregard for his own safety, he maintained his wireless link inside the enemy's area, frequently passing out intelligence under direct enemy attack. His coolness and bravery, his resourcefulness and initiative played a significant part in the success of the Rejang River operations."
Read the complete Vancouver Sun Newspaper-article on the awarding of the Military Medal to the five Force 136 men.
Unfortunately, our museum never had a chance to capture the details of his story. After his time in Borneo, he never fully recovered his health. Low died in 1960: he was only 37 years old.