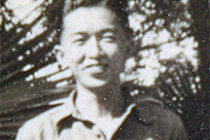 Robert Chan Kent served with the special commando group, Force 136, during the Second World War. Here is a brief summary of his long life as recorded in his Vancouver Sun obituary on April 27, 2017.
"Robert was born in Victoria to Charles and Toy Chan-Kent on June 19th, 1919, their third child and oldest son and one of eventually fourteen brothers and sisters. Robert accomplished much in his 98 years. He was one of the first Chinese UBC Commerce graduates in 1941.
He joined the Chinese Regiment of the Canadian Army in 1944 and parachuted into Burma at the end of WW2. Later he would become an active member of Army Navy Air Force Veterans Unit 280 serving as president.
Upon returning to Vancouver he began a life-long career working in the family business, Aero Garment and Kent Clothiers. In his later years Robert could be found enjoying a round of golf with his brothers or a good but noisy game of mahjong with his friends. He enjoyed traveling and vacationing at his home in Palm Springs.
To all who knew Robert, he was a kind, unassuming, gentle man, forever happy and always ready to lend a hand to someone in need. Robert was a devoted husband and his greatest joy and source of pride was his family.
Robert passed peacefully at home on April 19, 2017 just eight weeks short of his 98th birthday."