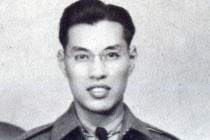 Ronald Lee of British Columbia was born March 4, 1919. He was one of five boys who grew up in Vancouver's Chinatown. To help raise money for the family, as a kid he delivered the Vancouver Sun newspaper in Chinatown each morning. He also recalls street rumbles on Pender Street between caucasian and Chinese youth, and can remember the location of famous Chinatown nightclubs like the Marco Polo.
Like so many other Chinese Canadian men, Lee was initially "shown the back door" when he tried to enlist in the Army at the outbreak of the Second World War.  It was only after the Japanese bombed Pearl Harbor in December 1941 and started an aggressive and successful campaign for territory in South East Asia, that things changed for Chinese Canadians.
Their ability to speak Chinese and to seamlessly blend in to the communities of South East Asia made them perfect for sabotage and intelligence gathering.
Lee was selected for Force 136 – a special unit that came under British intelligence. He found himself on an adventure of a lifetime doing basic training in Chilliwack and travelling to England, Cairo, Bombay, Calcutta and Ceylon (known today at Sri Lanka).
He was trained in guerrilla warfare tactics, and specialized as a wireless operator. Lee's kit included an opium pill (for trading) and a cyanide pill in case he was captured.
While waiting in an airport for his deployment into Japanese-occupied Burma, the U.S. detonated an atomic bomb over Hiroshima and then Nagasaki. Lee recalls he breathed a sigh of relief. There was a good chance that had he been parachuted into Burma, he would have not survived.
Read the Vancouver Sun story (from Nov 9/15) on his wonderful life.