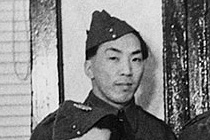 Roy Chan was born October 11, 1916 in Victoria British Columbia. He was one of four brothers (Ira, Herby and Paul) who served in the Second World War.
Chan was a member of Force 136. In fact, he was among the first group of hand-picked men who were selected for Operation Oblivion – essentially a suicide mission orchestrated by British intelligence with the aim to drop men in behind Japanese wines in Southeast Asia.
With 12 other Chinese Canadian men, Chan was put through harsh and intensive training at Commando Bay on Okanagan Lake. And was then sent off to Australia for further training in guerrilla warfare and jungle survival.
Initially, the Operation Oblivion mission was to go into Japanese-occupied China and assist resistance movements in that region. But those plans were halted by the Americans who assumed control over the war in the Pacific.
Instead, Roy was quietly sent into Sarawak, Borneo with Norman Low, Louey King, and James Shui. Their small team was led by another Chinese Canadian, Roger Cheng.
Their mission was to contact an infamous tribe of headhunters: the Dayaks, a group that vehemently opposed Japanese occupation. In the end the small team did more than just train the Dayak resistance movement.  Part of their operation involved forcing the surrender of the Japanese and taking over a prisoner of war camp in Kuching.
They survived 45° humidity, malaria, exotic insects and the deep dark jungle.
After the war, Chan worked as a letter carrier until 1981 and also with the Canadian Army reserves. He passed away peacefully in Victoria, BC on April 26, 1998.
Listen to Roy's interview for the Heroes Remember project.