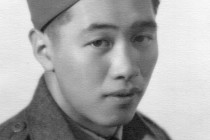 Sammy Soong (also referred to as Sammy Shong) was born in Victoria, B.C. on May 10, 1923.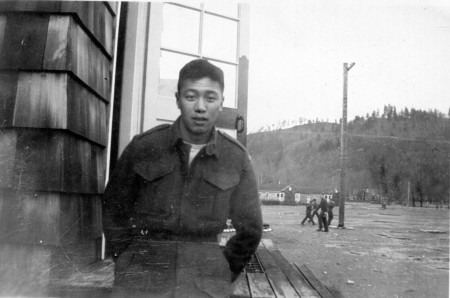 In the early 1940s, as war raged in Europe, Sammy worked as a mechanic. Although many Chinese Canadians were eager to enlist to help the war effort, most were told they were unlikely to be called up for duty due to the fact they were Chinese.
The war in the Pacific would change everything. Slowly there was recognition by the Canadian military, as well as the British Army, that Chinese speaking soldiers could be useful behind Japanese occupied lines.
A large recruitment drive began in earnest in the summer of 1944, enticing young Chinese Canadian men to join a special unit in South East Asia.
On September 26, 1944 Sammy rose to the challenge and enlisted in the Canadian Army in Vancouver.  His Soldier's Paybook indicates he had other skills that the military felt could be of value: Sammy had been a machinist, he had worked as a helper in a shipyard, and had at one time been a cook's assistant.
In the Spring of 1945, Sammy was put through the paces: he learned how to use a variety of small arms such as a 22 rifle, a 303 rifle and a Bren gun.
In the end, Sammy never made it to his final destination in Southeast Asia.  His ship was sent back when the U.S. detonated atomic bombs over the cities of Hiroshima and Nagasaki, and Japan finally surrendered.
Sammy went on to live a long life in Victoria. He lived until the grand old age of 92 and was know for his amazing smile.