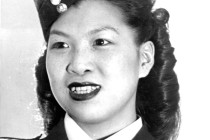 Peggy Lee was born and raised in Prince Rupert, British Columbia.
In the early days of the war she entertained the soldiers in Prince Rupert with song. But when Peggy moved to Vancouver, she served on the home front as a volunteer for the St. John's Ambulance Corp where she joined an all-Chinese platoon of 20 women.
There were many jobs to do and one of her biggest responsibilities was to walk around from block to block to ensure residents kept their windows blacked out at night. As part of her work she also performed first aid and home nursing, served as a stretcher bearer and did some fire fighting.
To learn more about Peggy in her own words, click on the links below.
Peggy's interview for the Heroes Remember film 
Peggy's interview for The Memory Project.