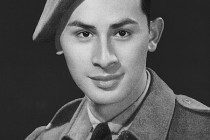 Richard Mar, who is thought to have been from Vancouver, joined the 1st Canadian Parachute Battalion and was stationed at Carter Barracks, Bulford, England. He is the only Chinese-Canadian to have served with that revered battalion.
The 1st Canadian Parachute Battalion was an Army airborne infantry battalion that was formed in 1942. It had a remarkable reputation for having completed the objectives of every mission they were assigned.
The troops were involved in some major battles in the European theatre. They supported the invasion of Normandy (June 6, 1944) by being dropped into France the day before. According to Wikipedia "Each man carried a knife, toggle rope, escape kit with French currency, and two 24-hour ration packs in addition to their normal equipment, in all totalling 70 pounds. The battalion landed one hour in advance of the rest of the brigade in order to secure the Drop Zone. Thereafter they were ordered to destroy road bridges over the river Dives and its tributaries at Varaville, then neutralize strongpoints at the crossroads."
1st Canadian Parachute Battalion also participated in the Battle of the Bulge in December 1944 and later in Operation Varsity (an airborne assault over the Rhine River in March 1945).
Learn more about the 1st Canadian Parachute Battalion.