About 300 Chinese Canadians served in the First World War, although no precise records exist. We know that two of these men were brothers from the area near Shuswap B.C.: Wee Tan Louie (born 1889) and Wee Hong Louie (born 1894).
Wee Tan Louie's journey to become a soldier was a bit more complicated than that of his brother. He tried to enlist in the army in B.C., but was turned down. Undeterred, Wee Tan bought a horse and rode from Kamloops to Calgary to try his luck there. It took him three months to make the journey. Finally, in February 1918, he was enlisted in the 10th Canadian Infantry Battalion of the Calgary Regiment and was on a ship to England by April.
Wee Tan was a runner and served in France, Holland and Belgium.  His letters from the Western Front to his sister (see below) in Canada reveal a young man who was subjected to the worst war had to offer. He was wounded and eventually suffered hearing loss from the noise created by all the shelling.
Wee Tan returned to Canada March 1919 and was honourably discharged in Calgary April 23. He received the British War Medal and the Victory Medal and later settled in Vancouver, B.C.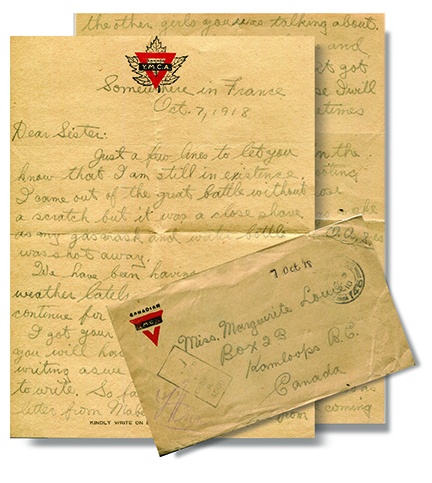 October  7, 1918
Dear Sister:
I came out of the great battle without a scratch but it was a close shave as my gas mask and water bottle was shot away. …I had all kinds of fun in the big drive. I had all the shooting I wanted and believe me those machine guns and whiz bangs make a person hug the ground sometimes. I think we got old Fritz going now. It will only be a matter of time before he will give in but it can't be too soon for me.
Wee Tan Louie
Somewhere in France