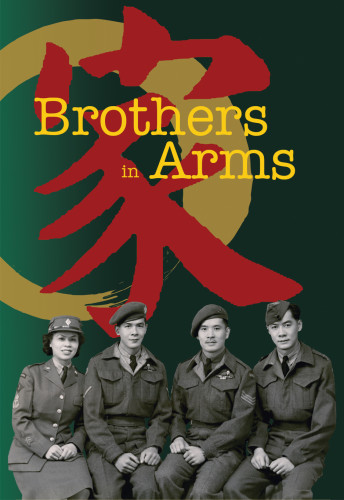 When the Second World War broke out, hundreds of Chinese Canadian families held their breaths as their children signed up for the war effort.
In some families, more than one child decided to enlist or was requested to report for duty. These siblings became "brothers and sisters in arms." Here are a few of their stories.
>>  MAH
Brothers Albert and Cedric Mah were born in Prince Rupert, B.C. Both trained in Los Angeles to become pilots.
Initially rejected by the RCAF because of their race, they instead joined the Chinese National Aviation Corporation and were based in India for much of the Second World War. Their mission was to fly vital supplies from India into Japanese-occupied China. It meant flying twin engine, unpressurized Dakotas over the highest mountain range in the world, the Himalaya Mountains (aka The Hump). These missions were extremely dangerous, made more so by the presence of Japanese Zeros which patrolled the skies.
Both men survived the war with impressive records: Albert flew 420 missions over The Hump while Cedric finished his career with 400 successful flights and 6,000 flying hours.
>>  WONG
Frank, Bing Chew and Bing Foon Wong spent part of their childhood near Alert Bay, Vancouver Island.
Frank Wong was the oldest, and signed up with the Army in 1942. He was posted to England with the First Canadian Army Troop Workshop and was the only person of Chinese descent in that unit. Frank landed at Juno Beach during the Normandy invasion. While the Germans retreated, his mobile unit followed the Artillery through to Caen, France. They eventually reached Holland and helped with the liberation of that country.
Bing Chew recounts growing up playing "cowboys and indians" with the local First Nations children. "But they wanted to play the cowboy and I had to be the Indian" he recalls. Bing followed in his brother's footsteps and also joined the Army. He was an excellent marksman. However, weighing in at only 115 lbs, it was often a challenge for him to march ten miles carrying a 28 lb Bren gun.
Another Wong brother, Bing Foon Wong, volunteered for the Pacific Coast Militia Rangers in Alert Bay, on Vancouver Island. His assignment was to be the last line of defence protecting coastal British Columbia from a Japanese invasion.
>>  LEE (Windsor)
Edward Lee signed up for the RCAF where he served as an aero engine fitter mechanic in 404 Squadron. Part of Coastal Command with missions along the Norwegian coast, 404 Squadron took part in the D-Day in invasion in Normandy, using their bombers to help clear German destroyers.
Meanwhile, Peter, the oldest brother, was posted to the 24th Light Anti-Aircraft Battery in England. He later became a chemical warfare instructor. Although Peter was promoted to the rank of Sargent, he later lost his rank due to fighting with other service men who mistreated him due to the fact he was Chinese.
Ben Lee served five years with the Perth Regiment, 11th Infantry Brigade, 5th Armoured Division. Ben saw action in some important countries in the European theatre: Italy, France, Belgium, and Netherlands.
>>  LEE (Vancouver)
Monty and Ed Lee were both from Vancouver.
Monty wanted to fly but was initially refused entry because he was Chinese. He would not give up his dream and eventually found himself stationed in Labrador with RCAF Bomber Command. Trained as a bombardier, Monty spent hundreds of hours flying up and down the coastline looking for German U-boats and accompanying merchant marine convoys out to sea. His efforts enabled hundreds of ships to carry vital supplies from Halifax to Great Britain.
Ed was only 18 years old when he signed up for the Canadian Army in October, 1944. He was assigned to Special Operations Executive, Force 136. Ed trained in the bitter cold environment of Maple Creek, Saskatchewan. However, he ended up stationed in the tropical climate of Poona, India where he perfected guerrilla combat techniques. One skill that Ed learned in the jungle was how to use a rope to swing from tree to tree, with nothing below to catch his fall.
>>  KO BONG
The Ko Bong family from Victoria watched as four of their children joined the war effort.
Mary Ko Bong was the first to enlist and joined the Canadian Women's Army Corps. A Lance Corporal, she worked as an instrument mechanic. She repaired binoculars, gun sights and other optical aids.
She was soon followed by her brother John. He started with the 16th Canadian Scottish Army Reserve and later became a member of Operation Oblivion, a select group of 13 Chinese Canadian men trained in guerrilla warfare. Part of the Special Operation Executive, they were to be parachuted into Japanese held areas, and find and train local Chinese resistance fighters. He was to scheduled for covert ops in Hong Kong, but when Japan surrendered, John was sent to the Philippines where he repatriated POWs.
Peter was with the Royal Canadian Engineers in India and also trained as a parachutist. While the youngest brother, Andrew, enlisted in January 1944 and became a Lance Corporal in the Reserve Army.
>>  JUNG
Three members of the Jung family served in the Second World War. Ross, Arthur and Douglas were all raised in Victoria, B.C.
Ross was a medical officer with the rank of Captain. He served in North Africa from 1943 until 1945. Later he worked in the U.S., and became one of the physicians to President John F. Kennedy. Ross also did work with the CIA.
The Air Force became the home for Arthur, who was stationed in England with Bomber Command. By the end of the war, he had completed 30 nerve-wracking missions and was promoted to flight lieutenant. After the war, he became a commercial pilot and died in 1973 doing what he loved, flying.
The youngest brother, Douglas, enlisted in the Canadian Army.  He volunteered to serve with the Special Operations Executive and was the first of 13 Chinese Canadians hand picked for Operation Oblivion. Their mission was to trek through the Asian jungles and seek out, enlist and train local Chinese resistance fighters in Japanese-occupied territory. Jung never got the chance to go behind enemy lines due to a parachuting accident while training. After the war, he became the first Chinese Canadian elected to Parliament.