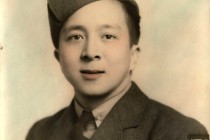 Edward Lee was one of three brothers from Windsor, Ontario who enlisted in the Second World War. (Ben Lee and Peter Lee also served.)
Edward was with the RCAF from 1942-1945, where he worked as an aero engine fitter mechanic in 404 Squadron. Part of Coastal Command with missions along the Norwegian coast, 404 Squadron was stationed in Northern England and Scotland during Edward's tour.
The squadron also took part in the D-Day invasion of Normandy, using their bombers to help clear German destroyers.
After the war, Edward returned home to work in the family business – Lee's Imperial Tavern. He later started his own business – the Edgewater Marina. All three Lee brothers lived on the same block in double wide lots next door to each other all purchased with Veteran loans they received after the war.
Edward married Jean Hong. She was the younger sister of Joseph Hong and George Hong (also from Windsor) who both were Killed in Action within six months of each other in the European theatre.
Edward passed away in 2012.